Stratford's Optimism Place women's shelter celebrated the start of construction on a 7,000-square-foot, 18-bed expansion to its accommodation building with an official groundbreaking ceremony on Thursday evening.
Content of the article
Stratford's Optimism Place Women's Shelter and its local partners are "Building on Hope" as they officially opened the planned 7,000 square foot, 18-bed expansion to their current building on Thursday evening.
Content of the article
The ribbon-cutting ceremony took place at the end of a celebration that included fundraising announcements and the public launch of its Building on Hope campaign to raise the last million dollars Optimism Place needs to reach its goal of $5 million campaign in support of building expansion and ongoing operation.
"We have called this project, 'Building on Hope', expanding supports for women and children in Perth County where we envision a day when every woman in Perth County and their child (who are seeking safety) can receive the housing and community supports they need to heal from their trauma and build a future of hope and optimism," Optimism Place Executive Director Jasmine Clark said at Thursday's celebration. "We view this expansion as the first step of several that we plan to take to address the need for additional emergency beds and transitional housing in our community.
Content of the article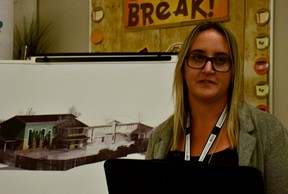 Contributors to the expansion project so far include the City of Stratford, which last month pledged to cover more than $82,000 in building permits and other costs, Marklevitz Architects Inc., the project's architects who contributed the equivalent of $94,000 in services, and the Province of Ontario and the Ontario Trillium Foundation, who provided $100,000 to Optimism Place through the Resilient Communities Fund to support additional staff costs, programming and development of an Optimism Place social enterprise initiative.
Optimism Place also received $3.4 million last year from the federal government's $250 million Women's and Children's Shelter and Transitional Housing Initiative. Administered by Canada Mortgage and Housing Corporation, the funding includes support for the construction of the expansion as well as six years of operational support for Optimism Place.
Content of the article
"I am very pleased that the federal government was able to support (this project) through the National Housing Strategy and Canada Mortgage and Housing Corporation, because it is so important that there is this partnership between different levels of government, between the private sector, among the voluntary and not-for-profit sectors," Perth-Wellington MP John Nater said Thursday. "These types of partnerships are so important going forward to ensure that we are all working towards the same goal and the same vision."
Less than a year away from Optimism Place's 40th anniversary, Building Hope Campaign Chair Kathy Vassilakos also spoke on Thursday about the importance of continued community support for the shelter for women of Stratford, not only for the construction of this expansion, but also to ensure that the shelter can continue to serve women and children in need in Stratford and throughout Perth County for another 40 years and beyond. of the.
Content of the article
"Optimism Place is where the abstract meets reality and where change is possible. The work they do takes the statistics we see and gives hope to the women and children they support, and by extension, they give hope to our entire community," Vassilakos said. "Over the next few months to a year…Optimism Place will need to raise $1 million to ensure that the building we see (in the architectural drawings) is ready to support women and children, and also ready to support the incredible frontline workers who provide services here and in our community.
The fundraising campaign, Vassilakos continued, will include fundraising, door-to-door and a monthly matching gift program that will maximize donations from individuals, couples, families and social groups.
"This community is really known for its generosity. I really don't see any part of this fundraising campaign as a challenge for our community. I prefer to call it an invitation and a call to action," she said. "We invite our community to join us in doing more than just building bricks and mortar, because this campaign is truly about building on hope."
The Optimism Place expansion is scheduled to open in the fall of 2023.