Calavo Growers, Inc. (NASDAQ: CVGW) is an interesting turnaround story for consumer staples. It capitalizes on continued strong consumer demand for avocados. With a new CEO and a turnaround strategy in place, chances are Calavo can get back to normal profitability in the coming years. Investors have a rare opportunity to accumulate shares as the company has been severely punished by temporary disruptions related to COVID-19.
Calavo Overview
Calavo Growers was founded in 1924 as the California Avocado Growers' Exchange to market California's budding avocado crops. After almost 8 decades as a growers cooperative, members of the cooperative voted to take the company public in 2002. Today, Calavo is a leader in the packaging and distribution of avocados and other fruits. fees at grocery stores and restaurants. Through Renaissance Food Group, Calavo also processes and packages fresh-cut fruits and vegetables. Figure 1 shows a breakdown of revenue and gross margin for Calavo.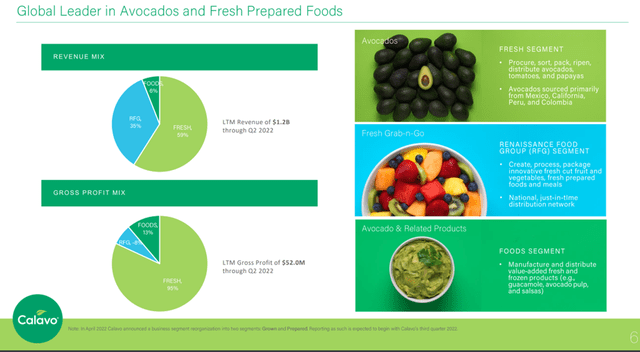 Avocado is a fast-growing superfood
Avocado is widely considered a superfood because it is extremely nutrient dense; avocados contain more than 20 vitamins, minerals, fiber and phytonutrients. Consumer demand for avocados continues to increase as they become aware of the nutritional value of avocados, but it is still underpenetrated compared to other fruits such as bananas and apples (Figure 2) . US avocado consumption grew at a CAGR of 5% from 2015 to 2020 and is expected to grow at a CAGR of 4% from 2021 to 2025.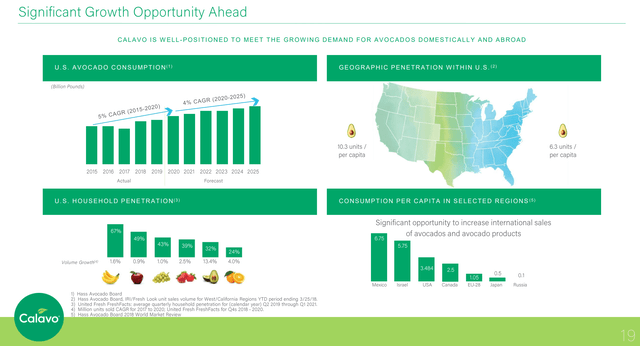 Demography is another factor driving the continued growth in avocado consumption. I think avocado consumption will continue to grow at a high rate beyond 2025 because it's a staple in Hispanic diets (think guacamole) and Hispanics are the demographic to fastest growing in the United States, growing 23% over the past decade versus 7%. for the entire US population and contributing to more than 50% of population growth during this period (Figure 3).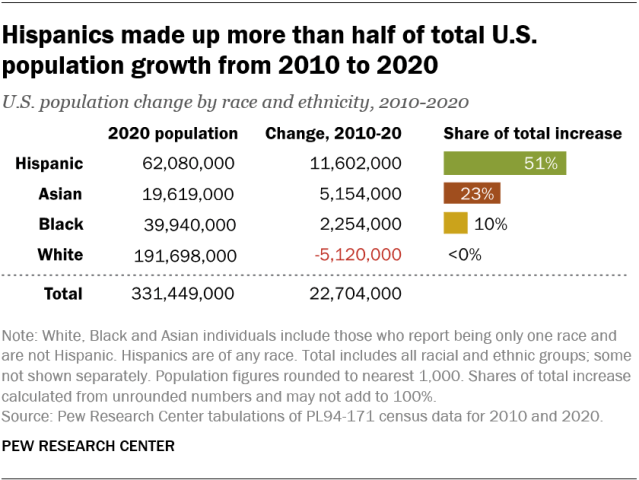 Calavo tripped during Covid
As with any commodity business, I typically start my analysis by looking at gross profit and gross margin. Calavo's historical earnings and margins are summarized in Figure 4.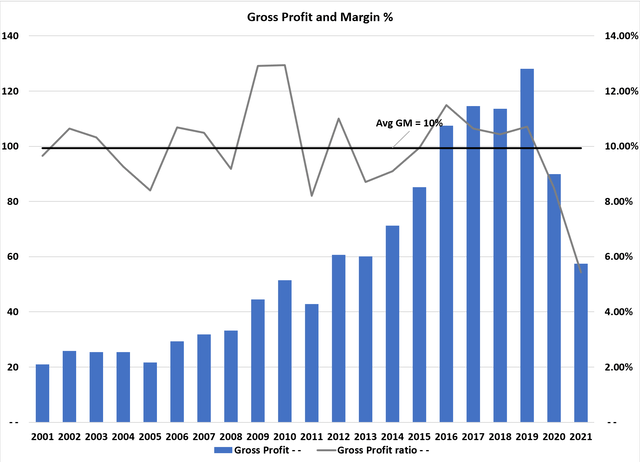 Calavo has historically generated consistent gross margins of around 10% as its core business is to provide packaging, marketing and distribution services to crop growers and pass on avocado costs to consumers. However, from Figure 4, we can see that Calavo's business has stumbled during the COVID-19 pandemic, with gross margin falling to 8.5% in 2020 and 5.4% in 2021. Which has been the impact of COVID-19 on Calavo? The former CEO explained it as follows:
First, the large supply of avocados from Mexico, California and Peru has created an oversupply scenario in US markets, with demand inhibited by the effects of the pandemic. Retail shopping habits have changed due to social restrictions. Our teams modified product sets to capture new demand as the year progressed. The continued lockdown of the restaurant channel has further reduced demand in the company's restaurant business. Margins in our fresh segment were negatively impacted as the supply and demand imbalance weighed on prices.
– Quote from James Gibson, former CEO, in the 2020 Annual Report
Operating margins have also fallen sharply, with operating profit turning negative in 2021, only the second time this has happened in the past 20 years (Figure 5).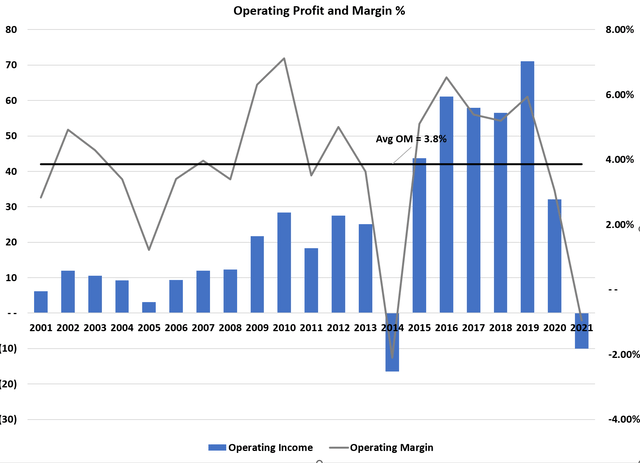 Calavo's business has experienced so much disruption and difficulty that the CFO and CEO left abruptly in June and September 2021.
Recovery plan in place – Uno, Dos, Tres, Vamos?
After extensive research, Calavo has appointed a new CEO, Brian Kocher, effective February 1, 2022. Mr. Kocher was previously CEO of Castellini Group of Companies, one of the largest fresh produce distributors in the United States. He also held CFO and COO positions at Chiquita Brands, a major distributor of bananas and other products. Based on his resume, Mr. Kocher looks like an ideal candidate for the CEO position at Calavo.
With a new CEO, Calavo also launched a restructuring and rebranding campaign called "Project Uno" (Figure 6). The main initiatives of the recovery plan consist of fixing the prices of fresh products while rationalizing and consolidating costs.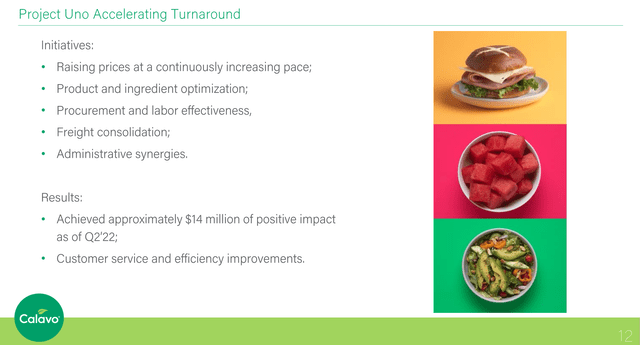 The turnaround strategy, combined with diminishing COVID-19-related lockdowns, has started showing up in financial reports, with the company posting back-to-back quarterly improvements in gross and operating margins. Encouragingly, gross margins bottomed out at 2.8% in Q3/21 and rebounded to 6.6% in the last quarter (Figure 7).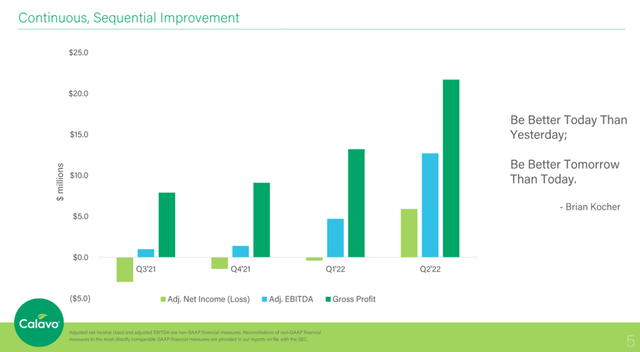 Valuation is attractive
What are Calavo shares worth? Assuming the company can recoup 10% gross margins by next fiscal year and can control operating expenses, I think it's possible that Calavo could capitalize on the strong growth in consumer demand. for lawyers and return to, and/or exceed, the maximum profitability that was reached in 2018/2019.
Figure 8 summarizes a forecasting model I created, which assumes avocado volumes (modeled by COGS) return to 2019 levels and grow 4% per year, while gross margin does not recover until F2023. Base operating expenses are expected to increase by 6% per year due to high inflation rates, while depreciation and capital expenditures are set at 10% and 12% of net property, plant and equipment, respectively.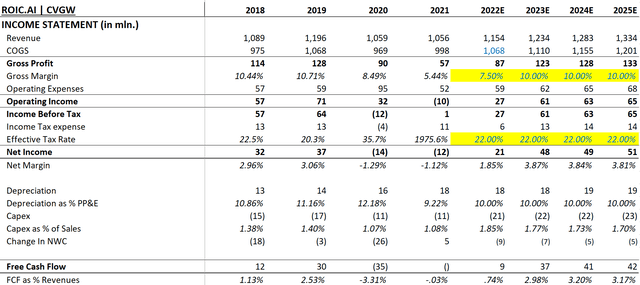 This simple forecast model generates a DCF value of $53 per share (Figure 9), a modest premium to the current price of around $42. The key assumption is a WACC of 7.1% (8% cost of equity; 2% cost of bank debt) and a growth rate to infinity of 3%.

I believe that the assumptions of this model are not too aggressive. By varying the growth rates and WACC, I can derive values ​​as high as $80 (Figure 10). For reference, Calavo has a 20, 10 and 5 year revenue CAGR of 7.6%, 6.7% and 2.4% respectively, including 2020 and 2021 figures impacted by COVID-19. Not to mention the projected 4% growth rate in avocado consumption, as shown in Figure 2.

Another way to think about valuation is that prior to COVID-19, Calavo was trading at a price-earnings ratio between 32x and 58x (Figure 11). If Calavo can return to peak profitability of around $2 per share, it is certainly possible that market valuations could revalue the stock above $60.

Risk to Calavo's turnaround story
One of the risks with Calavo's turnaround story is that, as the former CEO mentioned, there was an oversupply of avocados in 2020. If this oversupply persists, it could drive down the sale price of avocados and negatively impact Calavo's gross margins.
In addition, soaring inflation may adversely affect Calavo's cost containment strategy, particularly with respect to fuel and labor costs which represent a large portion of Calavo's operating expenses. .
Finally, slowing economic growth could impact consumer demand, as avocados have cultivated a soft luxury status (think $20 "avocado toast"). Consumers with tight wallets can opt for other less expensive fruits and vegetables.
Technical analysis and price action
After peaking at around $100 per share in 2018, Calavo has had a tough few years due to the COVID-19 pandemic. Due to the poor operating results mentioned above, Calavo's stock price plunged to a low of $29, a 70% drop from the high (Figure 12). However, since the release of Q2/2022 results, the share price has rallied, showing relative strength against the market. It is facing resistance in the $43-$45 range. Removing this resistance paves the way for a fresh rally.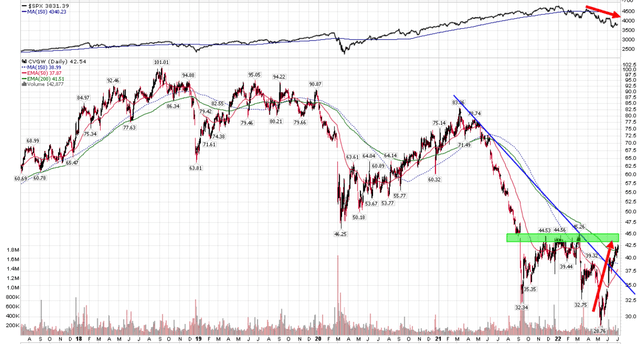 Conclusion
Calavo Growers, Inc. is a steadily growing consumer staples company that has fallen on hard times due to COVID-19-related disruptions. As restaurants reopen and disruption lessens, there's a good chance Calavo will return to peak profitability, which should revalue the stock much higher. Management has implemented a recovery plan and the results have been encouraging so far. I would recommend investors hoard stocks at currently depressed valuations.